August 2018 Teacher Spotlight
Jennifer King
Kindergarten Teacher
Brookside Elementary, Susquehanna Valley CSD
Binghamton, New York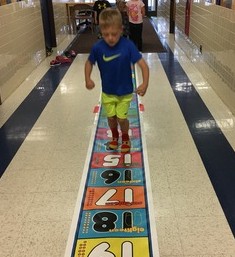 How long have you been a teacher?
I'm beginning my 21st year of teaching in the fall.
---
How did you learn about Math & Movement?
I learned about Math & Movement through an email from my district about a free Saturday workshop.
---
How long have you been using Math & Movement in your classroom?
I've been using Math & Movement in my classroom for two years.
---
What changes have you seen in your students since using Math & Movement?
The changes I've seen is their excitement in skip counting and finding out ways to use the add/subtract rug to do more skip counting! My students also have better number sense as we build and make numbers on the rug as well as on the place value mat. Adding/subtracting becomes less confusing with the huge visual for them to see and actually hop to show addition and subtraction.
---
What is your favorite floor mat and why?
I love the add/subtract rug with its endless possibilities in learning. The place value mat has also become a favorite because it gives me a good way to see how my students' number sense is as they have to build hop and say the number. The skip counting mats are also great because they can be used independently once students understand what is expected. I also love the literacy mats – sentence hop, make a word hop and word hops – which foster fluency, practice and independence.