Setting Up Your Affiliate Account
Thank you for your interest in being a Math & Movement Affiliate. This is a great program to earn commissions on products sold through your unique referral link. All affiliates will receive a 10% commission on products sold through their referral links. The steps below outline how to set up your account. If you have questions, please contact korie@mathandmovement.com
Each affiliate will receive a referral link and a coupon code.
The referral link will track 10% commission on all purchases

The coupon will provide customers with a 20% discount on all digital items (ebooks and all other digital downloads)

The referral link

will not

provide a discount on digital items. It will only track your commissions. If you know your customer will be purchasing digital items, make sure to provide your coupon code!

If the customer

is not purchasing a digital item

, make sure to provide them with the referral link to track the commission.
Please note that this will only apply to orders that are made via credit card on www.mathandmovement.com. Please encourage your contacts to pay by credit card! If a contact chooses to pay with a purchase order, then we will send your commission payment within 30 days of receiving payment from the school, as stated in the consultant contract. Please note that schools sometimes take longer than 30 days to pay when a purchase order has been used. We can only send payment when we have received it from the school. 
1. Go to https://mathandmovement.com/affiliate-dashboard/. This will bring you to a registration page. Please make sure to use the email address you want to be connected to your affiliate account. The payment email address is what will be used to send payments through PayPal. If you already have placed an order with us and created an account, you can use this to log in. If you aren't sure, you can register again and it will alert you if your email is already in the system.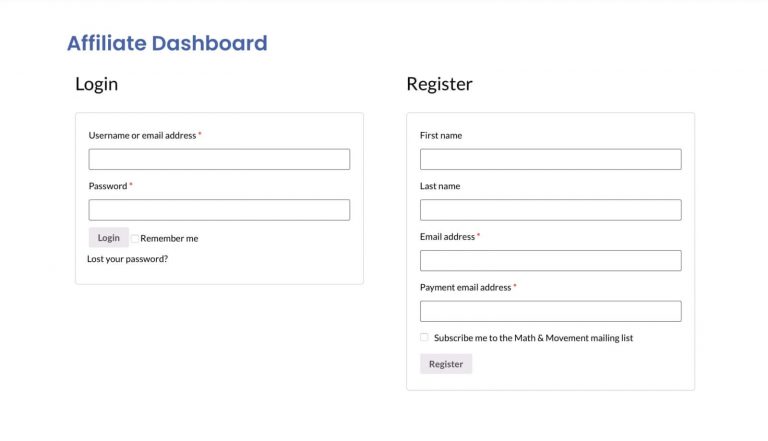 2. After registering and setting up your affiliate account, you will see a dashboard similar to the following:
3. In this dashboard, you will be able to generate your referral link, track your commission progress, update your settings, view customer visits, and view payments. 
Generating Your Referral Links
1. Click  "Link Generator" under the top menu on your dashboard.
 2. Then, you will see a screen like the one below. Here, you have a few options.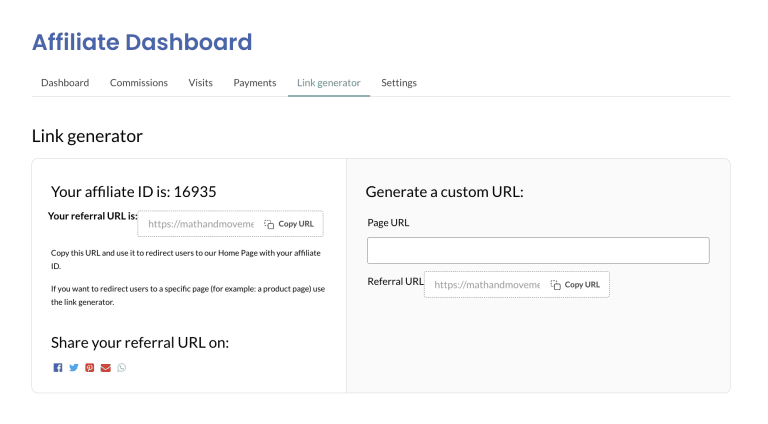 Option 1)

Use the link provided next to, "Your referral URL is:"  as your main referral link. This will point customers to the home page and will track them throughout their checkout process.

Option 2)

If you want to direct the customer to a specific product page, use the right column – Generate a custom URL. Paste that Math & Movement product page link under Page URL. Then click, COPY URL next to Referral URL . This will create a new link that will send them directly to that page using your referral information. This will not remove your other referral links. 
If you are unsure about generating your referral link, please email Korie (korie@mathandmovement.com) and she will email you this link(s) directly. Please let Korie know if you want the link to point to the main site or to a specific product page.
If you do not see a purchase credited to your account and you know that you were working with a customer who made a purchase, let Korie know and she can credit your account.
Since this is a new system, we appreciate your feedback throughout the learning process! If you run into any issues, please alert Korie asap! Thank you!
Once your account is created, Korie will add the coupon code for 20% off digital items you can also share with your customers. This will show up in your affiliate dashboard here: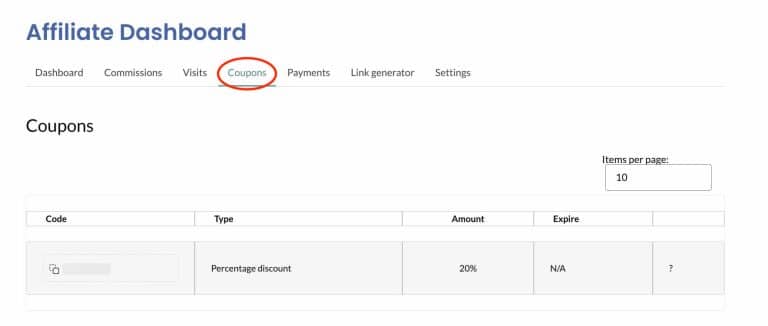 1. Please email Korie when you would like to cash out your earnings.
2. If you would prefer to use your commission to purchase your own Math & Movement materials, we can also accommodate this.