Moving & Learning Classrooms Program
Providing COVID-Safe Education and
Wellness Tools for Your Classrooms
The Moving & Learning Classrooms Program supplies K-5 elementary school classrooms with kinesthetic learning materials and professional training to combat the difficulties brought on by the COVID-19 pandemic. This program is sponsored by the National Math Foundation.
The Moving & Learning Classrooms Program
The Moving & Learning Program provides
 classrooms with their own sets of materials, which limits contact (COVID-safe!). 
These materials and this training will enrich all students' abilities in building their foundational understanding of key math concepts while simultaneously burgeoning their confidence in their math abilities and staying physically active.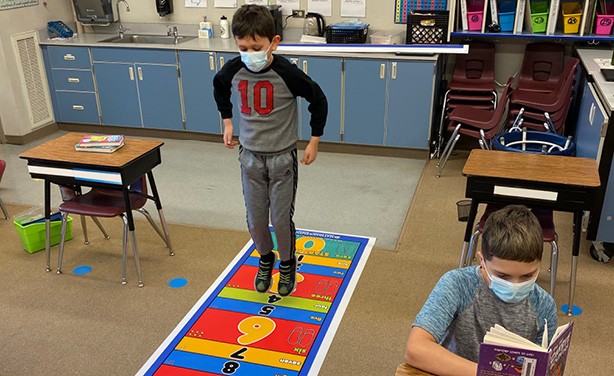 We need to reach young students who are threatened by the COVID-19 pandemic and struggling to learn math in hybrid classrooms. Math can be daunting, but it doesn't have to be! Students can master concepts through movement. Increase teacher and student overall sense of physical, social, and emotional well-being. Incorporating these exercises, activities, and strategies during the day, before testing, or during transitions, allows teachers and students to feel energized, focused, calm, and prepared to learn.
Materials are Customized to Your Goals
The National Math Foundation provides funding support for this program. We have compiled a list of materials that other schools have used with their own programs below. We will work with you to customize a list of materials that will work best for your classroom goals.
Increase student achievement, self-confidence, and overall student success! Students will be physically active on a daily basis which will also increase their mental and emotional health.
The evaluation of student success on the kinesthetic learning tools will require little to no extra involvement on the part of the teachers since each teacher will be trained in how to properly use the materials as early as possible. Teachers will understand what success looks like on these materials. Student success will be evaluated based on the standard protocol of the participating schools during the academic year. All participating students will be evaluated at the beginning of the project just before they begin using the new materials, and they will be evaluated at the end of each respective unit and at the end of the school year using the traditional district-wide assessments established. 
Check out our latest data from a third grade classroom that participated in a Moving & Learning Classrooms Program:
What do the students think?
If you and your school are interested in initiating this program, please fill out our interest form.
You Might Also Be Interested In...